Expert Consulting and Project Management
Our passion is in providing World Class Service for our customers all around the globe.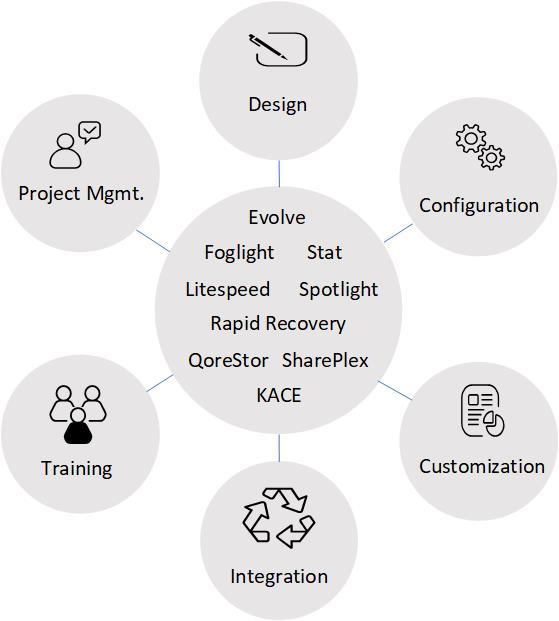 We insist on Customer Satisfaction every time and require deep technical knowledge to join our team. The sections below explain more about the services we deliver for our partner and our direct customers.
Foglight Consulting Services
Our team members are experts in delivering performance monitoring solutions that help our customers maximize the performance and availability of key applications and databases. Using Quest's industry leading Foglight software, we can tailor a solution that addresses your specific needs.
Let's start with some information about the solutions at the top, but you can scroll down to see the specialized services we offer
Database performance monitoring and management
Solutions that provide simplified, consistent performance monitoring and management across heterogeneous database platforms so you can reduce administrative costs and improve service levels. Help ensure your database components are operating within their resource capacity limits. Use alerts to discover when they are overextended and determine how to correct those conditions.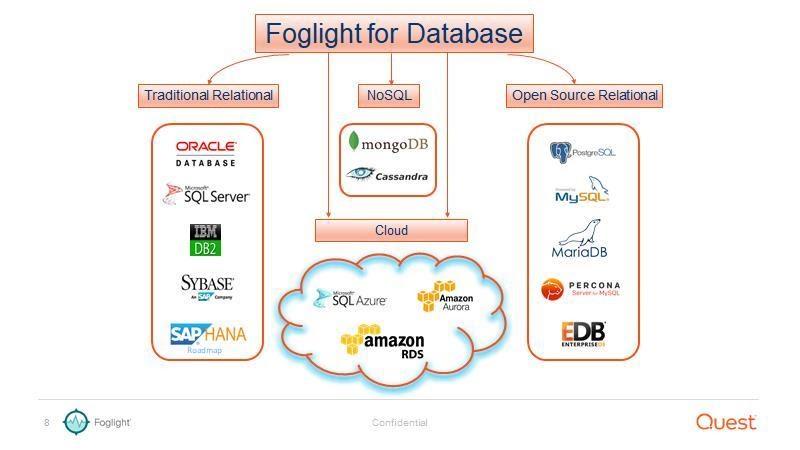 Foglight for Databases
Database performance monitoring and management
Solutions that provide simplified, consistent performance monitoring and management across heterogeneous database platforms so you can reduce administrative costs and improve service levels. Help ensure your database components are operating within their resource capacity limits. Use alerts to discover when they are overextended and determine how to correct those conditions.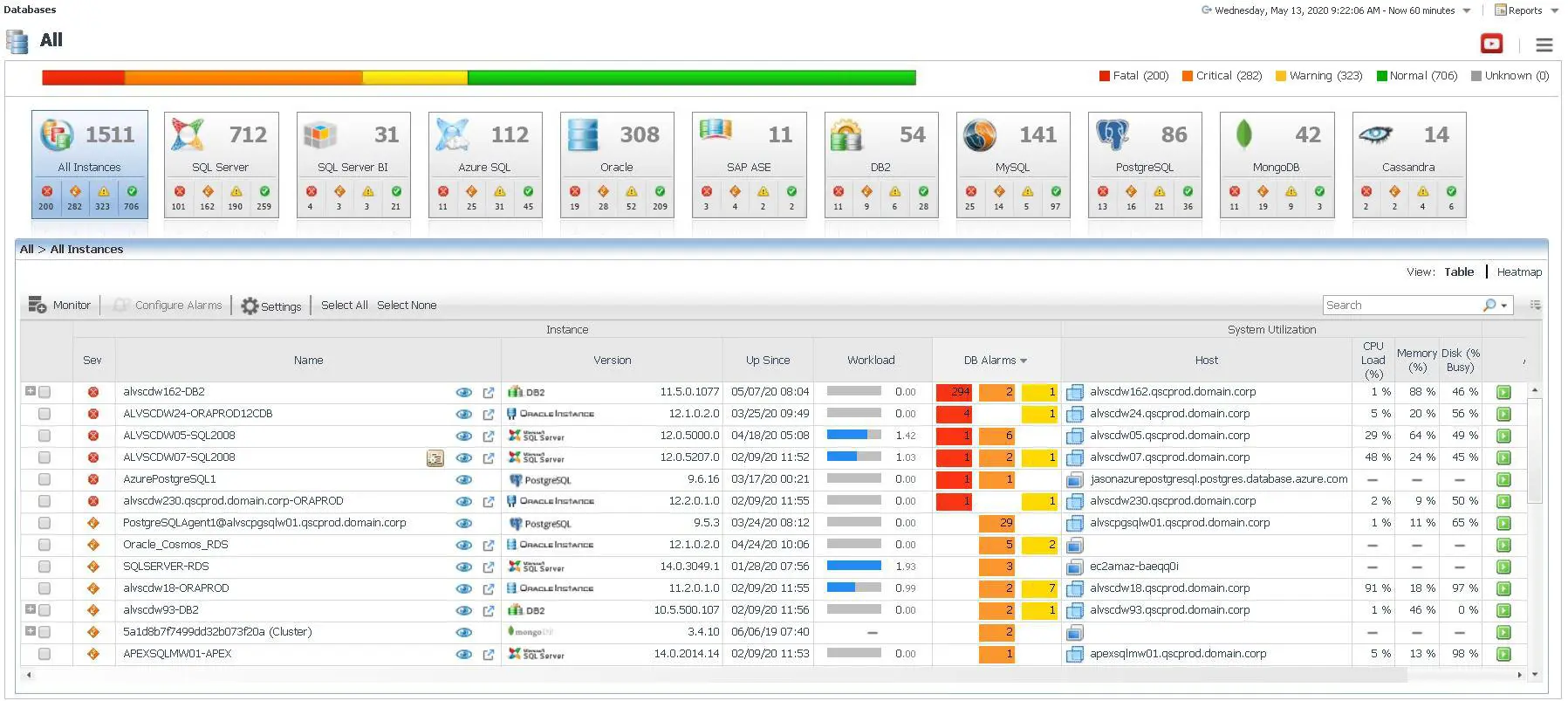 Foglight Evolve
Virtualization Monitoring and management
Accelerate & simplify workload migration to the cloud
Capture true & accurate historical on-prem costs for analysis
Automate comparison of on-prem costs to cloud costs
Reduce risk of under or over provisioning cloud resources
Monitor & optimize cloud resources after migration
Save unnecessary cloud spend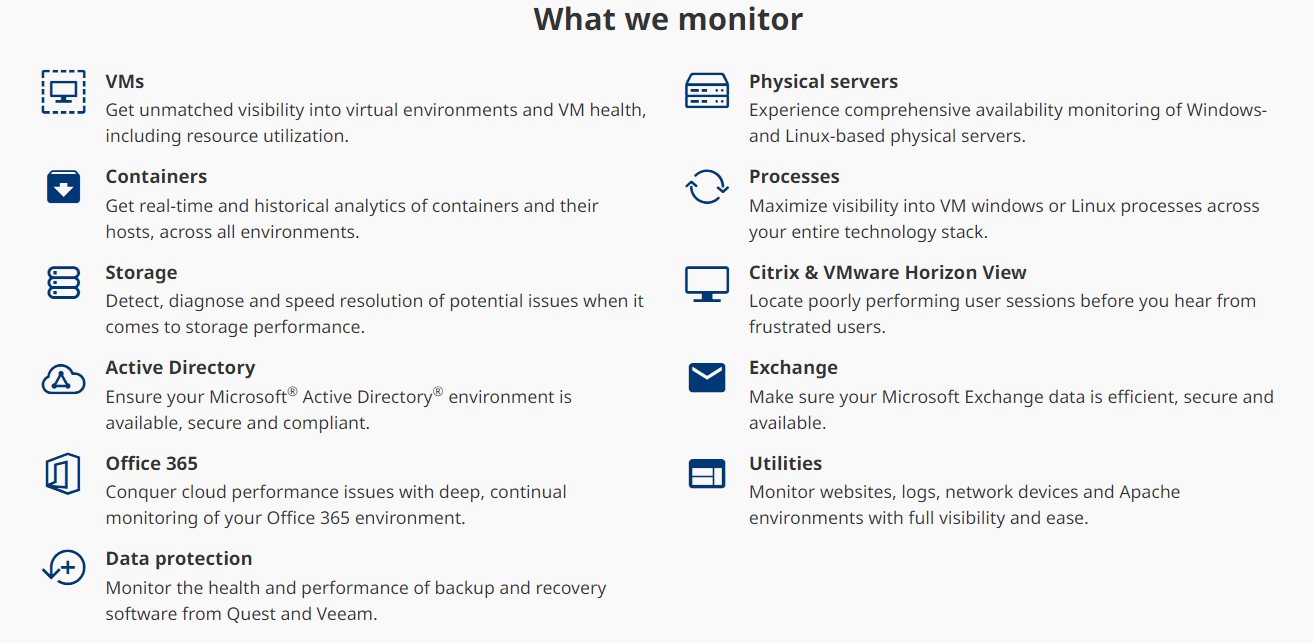 Storage performance and utilization
Gain a unified view of storage performance and application utilization through the virtualization layer to the physical disk spindle. Monitor and manage the performance of your underlying physical storage as well as the capacity and topology metrics to ensure the best possible virtual infrastructure performance.
Our Services
Whether implementing these solutions as the Quest delivery partner, or while working on a projects directly with our customers, we have learned from these years of experience with the products. This has enabled us to develop the following specialized offerings to enhance your experience.
User Enablement
The work it takes to keep IT Infrastructure running smoothly is increasingly dependent on multiple components functioning interdependently. The work you perform to ensure that takes time, and often leaves no room to attend formal classes. Knowledge transfer can be the right solution to help
Foglight Remote Administration Services
The every-day Administration of Foglight comes can be as much as a Full Time Employee in some, depending upon the size of the organization. Covering vacations, illnesses, or heavy workloads can make can be difficult. We can provide the necessary backfill you need with reliable resource and no learning curve. Or maybe you would rather leave it all in our hands!
Foglight Customization
The concept is simple... Foglight can do a lot of things, and you have great ideas about what you want to do with it. But you don't always have the time do learn how to dig deep and pull the information in the way you want to see it, or more importantly how your boss wants to see it.
Foglight has tons of good information, dashboards and alerting out of the box, but you need to add to it and grow the solution faster than the updates are making solutions available.
Foglight Managed Service Provider
Whether you simply don't have the people available or you just want to see the results and not the infrastructure, a Managed Service Provider can get you what you need with minimal pain and manageable cost. We are now offering a new service where we will Manage Foglight for you.
Virtualization Performance
Ok, so Foglight monitors performance, but is that all we can do? No, as a matter of fact we can use the tools available in Evolve to evaluate and then help you Optimize the configuration performance and utilization of your hypervisors and guest virtual machines, as well as the applications utilizing them. Capitalize on extensive real-time monitoring, capacity planning and reporting capabilities for informed decision making.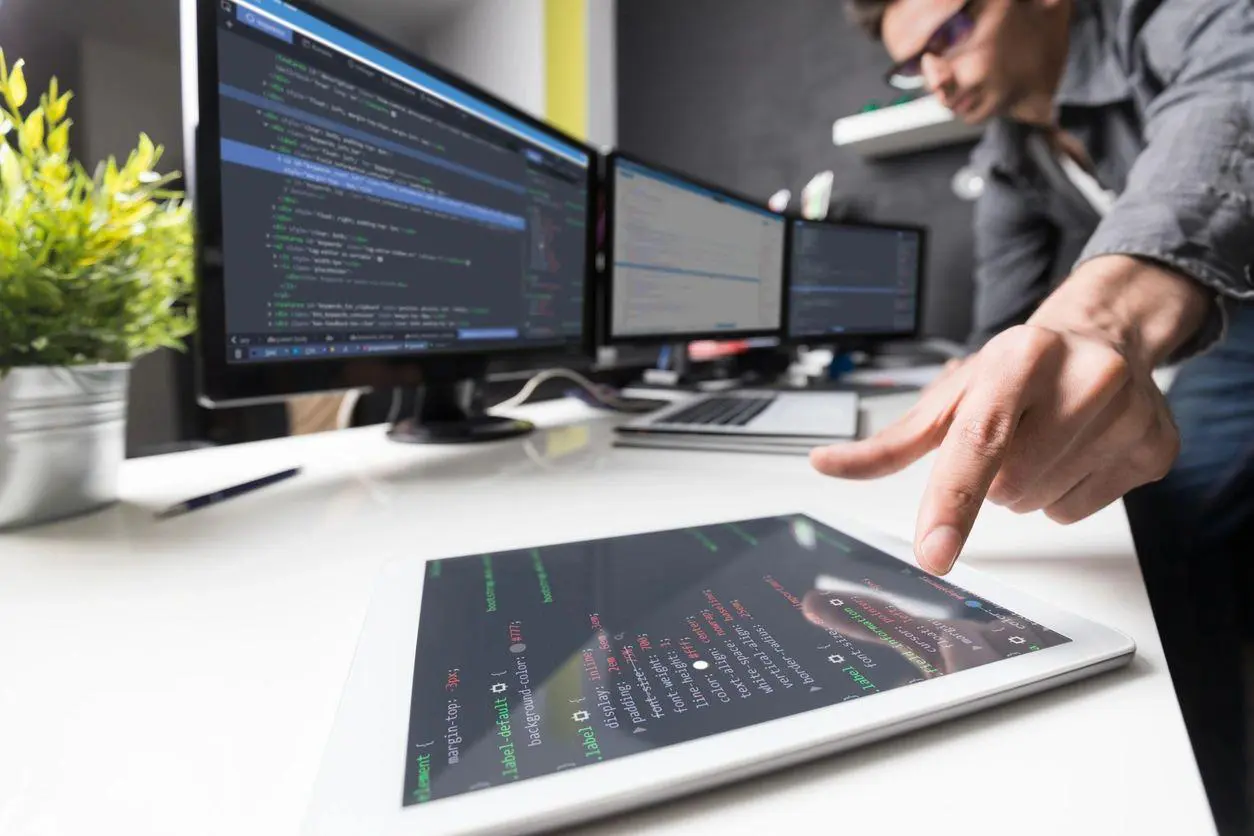 STAT CONSULTING OFFERINGS
We are the only authorized Quest Partner delivering services for Design, Implementation and User Enablement/Knowledge Transfer sessions for Stat for PeopleSoft and Stat for Oracle(as well as Extended Objects for Oracle). Continue reading this section to learn about some additional offerings we provide to enhance your Stat experience.
Custom Reports
Consultant will work with Stat Administrators and together they will create at least one custom reports using TIBCO Software's JasperSoft.
Data Mover
Consultant will work with Stat Administrators to configure Stat to support Data Mover Script (DMS) execution. Scripts will no longer need to have Input, Output and Log Locations hard-coded because Stat will be able to dynamically execute the DMS against the correct target and place the logs in the appropriate location. This makes executing, documenting and logging of Data Mover Scripts quick since the manual step of editing each script prior to execution is eliminated. The defined process will backup the data prior to update.
Database Refreshes
Consultant will work with Stat Administrators to configure Stat to accurately and easily restore customizations that are overwritten during a database refresh.
SQL Scripts
Consultant will work with Stat Administrators to configure Stat to support SQL script execution. Process will include backing up current data prior to update.
Health Check 
As time passes it is natural for various configuration items in Stat to get out of sync with each other. At a minimum, this can be a simply annoyance like a drop-down value that says one thing but means something else or as serious as a flaw in Stat security setup which enables users to bypass workflow rules. The Health Check is designed to find these inconsistencies and to address them.
Parallel Development
Stat makes it possible to streamline
your development processes into
contiguous workflows. The manual
process of merging workflows together
is tedious and often risky. Our services
team can help you automate multiple
workflows and return your focus to the
task of development.
Workflow Design 
Stat Administrators will learn the 5-step process to creating robust workflows that support their site's business processes. Workshop will include analyzing and configuring at least one existing workflow or creating a new workflow using the process presented in this course.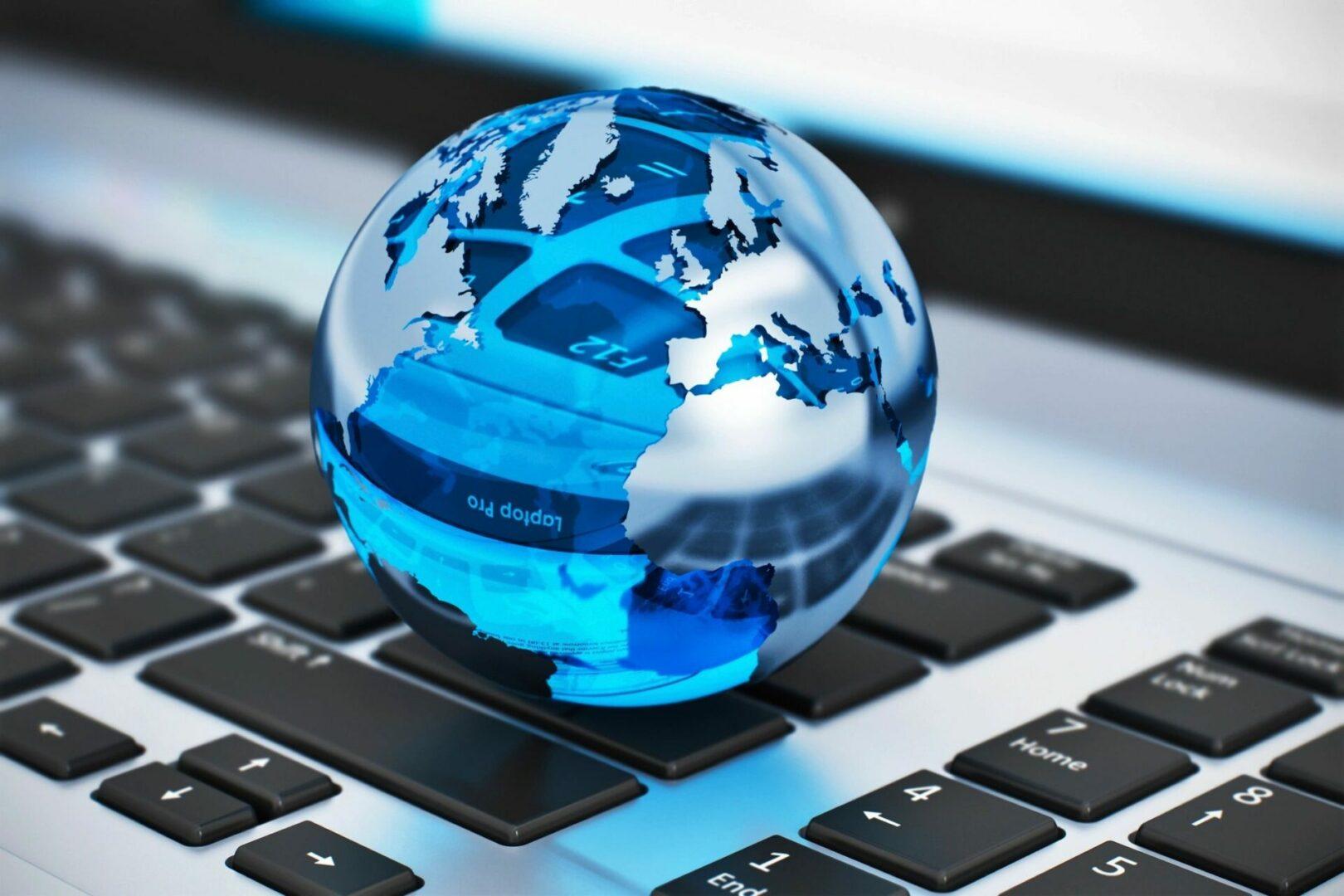 SHAREPLEX CONSULTING OFFERINGS
SharePlex Design and Implementation
As part of our standard set of services which can be purchased either through Quest or directly from LightSpeed PM, we are one of the preferred partners who are authorized to deliver SharePlex design and implementation services for Quest Customers. We'll take you every step of the way from Scoping the requirements to Go Live with you Oracle Replication.
Our customers use SharePlex for real-time replication of data, whether for fail-over capability or just to build a reporting instance to reduce the load on the production server. We have some of the best resources in the business, and our rigorous processes ensure that you will be successful and fully satisfied with your implementation.
A health check for SharePlex for Oracle focuses on ensuring that your current configurations and replication performance are within optimal range for your environment by validating the amount of data being replicated, how well it is being processed on the target host(s), and whether or not there is any need for improvement.
This offering includes all the standard requirements for a SharePlex Health Check (above), with the added value of SharePlex Manager. Upon completion of your Health Check, we'll help you properly design and implement SharePlex Manager (built on Foglight core) to ensure proper performance, then install and configure the solution and train you on how to navigate the application as well as how to tune your alerts and thresholds.
SharePlex Custom Knowledge Transfer
There is so much to know about SharePlex, and so many ways to approach an understanding of the tool. And because of its ability to replicate from one to many Oracle Databases, just having someone come in and install and configure the tool may not be enough, especially if you plan to implement additional source to target replication configuration on your own. Give us a call and tell us what you want to accomplish and how you wish to prepare for it, and we'll come up with a set of objectives and discussion points that will meet your needs, and we'll right size it for the information requested and the size and familiarity of the audience.
SharePlex Training
As of the writing of this page, we are presently reviewing historical training tools that had been used by Quest, and carefully developing an new and more current set of artifacts and lessons to provide. In the meantime, if you require training in a more urgent manner, reach out to us and let us develop the solution you require so we can deliver training in your environment and according to the structure that will best suit your needs.
We have an ever expanding list of Partner solutions to round out your performance monitoring experience to include APM, and we can deliver all of these solutions as well as help you with integration into Foglight if desired:
In addition to Quest Software, we provide sales and services for the following:
| Partner | Product |
| --- | --- |
| OPTIMIZ | App Dynamics (Cisco) |
| ARCTURUS | Applicare |
| SMARTBEAR | AlertSite |
As you may have guessed by now, we also have a few more database specific solutions we deliver for Quest.
LiteSpeed Backup
SharePlex Replication for Oracle
Spotlight on SQL
We can't possibly list everything we do and not risk losing your attention, but rest assured we have the best trained and experienced resources worldwide for these products, and you won't find anyone better.
LightSpeed PM also very recently signed on as a Mcafee solution partner. While we are still working on Training, we're ready to serve you if you need to purchase one of the many security solutions they make available. I'm Wade Myers, CEO of LightSpeed PM, and I've consistently used McAfee products since 1997. I've tried others, and even had to administer organizations with multiple products including Norton, Avast, Symantec, and others, and no other Security company has been better at protecting the companies I've worked for and with. So, we're proud to join the team and we're looking forward to serving your needs for purchasing and implementation.
Look for this section to grow as we achieve certifications!
We'd love to hear from you, so, please feel free to contact us at Info@LightspeedPM.com.